--
Background
Edit
--
Personality
Edit
Excitable, careless, and loud.
Appearance
Edit
--
Abilities
Edit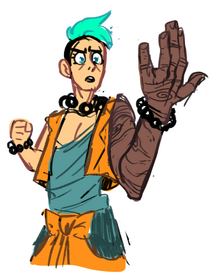 Wooden Body
style is a Strength Class that is a very unique and rare ability that has only been seen once every 3 generations of Switch users. It's very power and still undisicoved by the public. Only the very first user of this ability know its inside and out but it's not documented.
Andrew has used the Wooden Guard Dragon summoning on his battle against the United Police Force when they raided one of his missions with Josh and Brandon.
BLAH BLAH BLAH
Photo Gallery
Ad blocker interference detected!
Wikia is a free-to-use site that makes money from advertising. We have a modified experience for viewers using ad blockers

Wikia is not accessible if you've made further modifications. Remove the custom ad blocker rule(s) and the page will load as expected.